Obsession
What's your obsession, gambling, shopping, cleaning, football, sex?
Obsessions are many and varied ranging from stalking to obsessive compulsive disorder. In some cases obsession results in serious criminal activity in others it involves a lifetime of 'living hell on earth'. Either way, obsessions can threaten the very fabric of your existence and affects not only you, but those around you.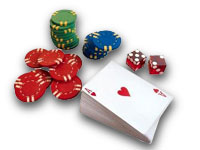 One of the most common obsessions, amongst women in particular, is one of cleaning and cleanliness. Whilst good in moderation, when this obsession gets a grip on you, it leads to confrontation and bad feeling. Even when internalised, this obsession manifests itself to others through your subconscious actions affecting your relationships unconsciously.
In men, one of the most serious obsessions is gambling and a very expensive obsession it is too. For a fraction of the cost of gambling, freedom can be achieved through Quantum Field Therapy © (QFT ©) and BeOnForm are here to help.
How can BeOnForm be of service?
No matter what your obsession BeOnForm can help you remove it from your life. Our skilled practitioners apply techniques and tools that change your compulsion into a distant memory and let you get on with living the life you deserve.
Quantum Field Therapy © (QFT ©) a unique blend of Thought Field Therapy (TFT), Neuro-Linguistic Programming (NLP), Reiki, Guided Visualisation / Journey Therapy, Regression Therapy, Meditation, Alpha Access, Use of Meta language, Mind Calming and Applied kinesiology (AK), developed and practised by BeOnForm has proven over and over again to be superior to any single treatment when tailored to each individual case...
view more details about our treatment methods
What can I expect from treatment?
During your initial consultation a BeOnForm practitioner will discuss and agree with you, the treatment options available to you, before, with your consent, proceeding with therapy. This consultation / Treatment session will last for 2 hours, most people only needing one or two sessions...
The time to take action is now,
contact us today