Stress Management Training Courses for the Workplace
- background information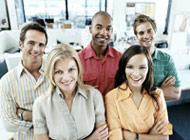 BeOnForm is an experienced provider of stress management training courses for the workplace, helping management and staff to tackle and eliminate a range of problems resulting from work-related stress.
Feedback from our business and corporate clients shows that stress management training courses delivered by BeOnForm results in the following significant improvements:
staff demonstrate increased concentration and improved efficiency
a noticeable drop in the number of costly 'days off' through sickness
staff retention figures improve
staff able to work more effectively under pressure
Businesses have also informed us that the enhanced confidence a BeOnForm stress management training course delivers, has meant better creativity, motivation and decision-making all round.
"We have seen a vast improvement in staff motivation and effectiveness through your stress reduction programmes. Many thanks again"
Anita Davies - O2 Therapy Ltd

Why tackle work-related stress?
Work-related stress accounts for over a third of all new incidences of ill health each year. Each case of stress-related ill health leads to an average of 30.9 working days lost.

A total of 12.8 million working days were lost to stress, depression and anxiety in 2004/5.*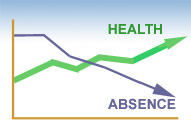 A BeOnForm course will not just benefit your business financially by cutting the number of sick days and length of absence, but will also have a positive effect on your staff's well-being.
Their new and focused commitment will 'rub off' on others, too. Your customers will engage with happy, relaxed staff and your business will have an enhanced reputation.
The Health and Safety Requirements
The Health and Safety Executive define stress as
'the adverse reaction people have to excessive pressure or other types of demand on them.'
Employers have a duty (under the Health and Safety at Work Regulations 1999) to assess the risk of stress-related ill health arising from work activities and to take measures to control that risk.
A stress management training course, delivered by BeOnForm, can help businesses satisfy their legal obligations and demonstrate their regard for this regulation.
What can BeOnForm offer your workplace?
We can supply a full service to help your business:
identify and evaluate possible stress risks to staff
create an in-house stress management policy
provide training courses to provide staff with strategies they can call on to limit and manage their stress
We can also treat individuals in your organisation who may be absent through stress, helping them to return to work quickly.
*All statistics from the Health and Safety Executive reports.
For a list of our workplace courses, please CLICK HERE
Contact us for more information
If you feel that your workplace would benefit from a BeOnForm stress management training course, delivered at your business premises or arranged at a convenient location, please get in touch.
We will be pleased to give you all the information you need.