Stress Management Training Courses for the Workplace
- list of courses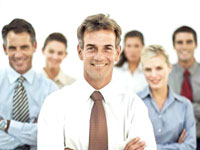 BeOnForm delivers three options for stress management training courses for the workplace:
Option One - 'De-stressing for Employees'

Option Two - Tailored On-site Training

Option Three - One-to One
Option One - De-Stressing for Employees
This popular 2 day standard course teaches quick and easy methods of stress reduction and elimination which you and your employees can use to tackle stress-related ill health in the workplace.
Workplace courses are suitable for small businesses right through to larger corporate organisations. Methods taught on the course will assist everyone by giving them skills to recognise danger points and potential pressures and nip them in the bud.
Courses can be held at your business premises or at a location to suit your convenience. BeOnForm will be pleased to make the arrangements on your behalf.
Option Two – Tailored on-site Training
We can provide tailored stress management training courses on-site according to your company's particular needs. BeOnForm can ensure that your business environment is the focus for the training by identifying and choosing specific subject materials.
Courses can be of any duration and accommodate any number of employees.

BeOnForm can arrange for courses to be held at your workplace or at one of our training centres nationwide.
Option Three – One-to-one Sessions
These are confidential stress management training sessions designed for individual employees who may be experiencing difficulties coping with workplace stress and who may need a more personal approach to training.
A BeOnForm trainer can discuss and agree the best options for all concerned and are happy to arrange home visits if necessary.
Contact us for more information
If you feel staff at your workplace would benefit from a BeOnForm stress management training course, delivered at your business premises or arranged at a convenient location, please get in touch.
We will be pleased to give you all the information you need.
Tel - 0870 760 2819
Programme of Study
BeOnForm's stress management training courses cover all aspects of stress management, from recognising and monitoring the symptoms of stress to implementing ways of dealing with it.
We'll show staff how to avoid threatening situations, help them find ways to control and manage stress within the workplace and teach them how to improve their health by using a range of relaxation techniques.
The course also covers tried and tested techniques including Guided Visualisation, Anchoring and Neuro-linguistic Programming (NLP).
Requirements
BeOnForm will provide everything you and your staff need, from a notepad, pencil and training manual to tea and coffee throughout the day.
Ongoing assistance
At BeOnForm we are confident that our stress management training courses will help you and your staff eliminate workplace stress.
We are also pleased to offer ongoing support, providing refresher courses and backup whenever you may need it. For example, we can help keep business on an even keel at stress points in the business calendar or at times of change.
Contact us today and we will be happy to discuss your business's requirements.